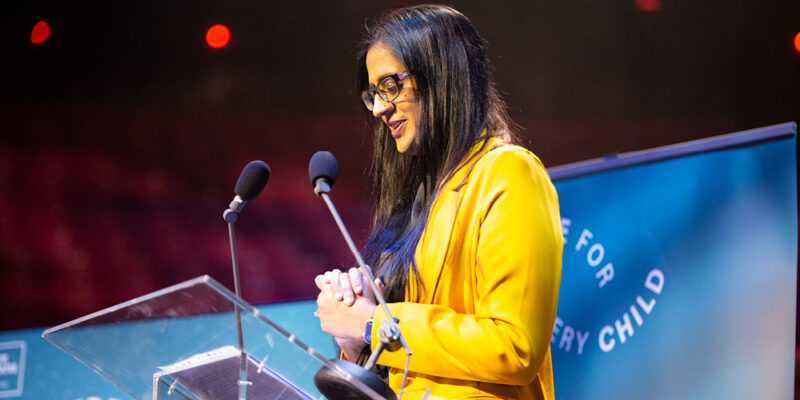 Take yourself back to the 90s and put on the shoes of a primary-aged Pakistani, British, Muslim. Daughter of an immigrant illiterate mother and conservative father, a girl who saw school as a means to an end. Get good grades in traditional subjects, get a good job. I figured that Maths and English were the key to the world. 
Yes, society had indeed cemented the ceiling and left me with no appetite for more.
There is something to be said about dreams and aspiration and for me it came in the form of brightly coloured cinematography. Bollywood danced in my living room every Saturday, and I embraced it: the rollercoaster of emotions that burst through the screen left me transfixed. But by Monday my world was back to English and Maths. Some satisfaction from a new text discovered, new equation mastered. But not hope, not empathy, not creativity. I wanted more.
The appetite came. The ceiling did lift. Then, opportunity followed and I embraced my long lost friend. Luck was on my side it seems and my brother, who at the time was a teacher early in his career, took me to Warwick Arts Centre to watch my very first production – I was hooked.
And now, I stand before you, Fozia Nisar, mother of two theatre lovers, Deputy Head and Arts Lead working with the Hippodrome Education Network to bring theatre to the lives of hundreds of youngsters, who need not be that girl in the 90s, who thought that there was no world beyond a textbook and her living room.
The sad reality is that by the end of primary school, theatre was not in my vocabulary, not in my reach – an alien, unattainable world for the privileged few – in 2023 it should not be the case under our watch.
You will all sit reassured that I eventually did make it to the theatre: to this day, it is imprinted in my memory – the lights, the laughter, the love, the sadness and ambience – what a world it was and I had missed out on it for so long – bittersweet joy this was and is still for so many young aspiring minds that miss out on world leading theatre. Ask yourself, how are we allowing this to happen in 2023?  
As a mother and as an educator I stand firm that the key to unlocking minds is through artistic exposure: music, dance, acting are all fundamental to a child's emotional journey and senses whereby they can explore a plethora of feelings in the safety of a theatre platform. Reflecting on this, pupils in our school have been able to broaden their horizons, improve their oracy, raise aspirations enabling them to see the arts and theatre as a career path for all. Theatre has supported in bridging cross cultural divides and has exposed pupils to a multitude of thoughts, views and emotions – theatre has enabled us to bring our curriculum diet to life.  
It is no coincidence that I am a leader in a school that embraces the arts as part of every pupil's diet – this, however is not the case for all – too many are starved. They shouldn't be.  
Opening an unseen world has barriers: financial, fear, bias and simply put, you are as good as the opportunity that sits in front of you. Ask yourself today, why should every single child in Britain not have the opportunity to broaden their horizons and sense of the world? Providing every single child with a seat in the theatre is an investment in the future for a society of people that will be empathetic, educated and emotionally intelligent. 
So, start the show, fill the seats and inspire the next generation. I will leave you with this, as we are the lucky ones to need no introduction to the next few words: "We know what we are; but not who we may become."
This is why theatre should be for every child.
---
Society of London Theatre & UK Theatre believe that every child has the right to experience and enjoy our country's culture and world-leading theatre, so we will be asking political parties to commit to providing funding and support for our aim in their general election manifestos – that every child goes to the theatre by the time they leave school.
Find out more about our Theatre for Every Child Campaign at theatreforeverychild.org
#TheatreForEveryChild